Dolly Parton Genealogy
(aka, Dolly Rebecca Parton)
Are You Related?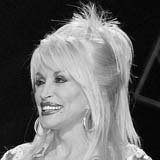 Known for her big blond hair and other voluptuous assets, Dolly Parton is an American singer, songwriter, author, philanthropist, and actress. Born January 19, 1946, in Sevier County, Tennessee, Parton got her big break in 1967 performing on Porter Wagoner's weekly television program. Parton and Wagoner partnered up with Paxton, producing various songs, until 1974 when she decided to go in a more pop-influenced direction. In 1977, Parton began her successful solo career, with hits like "9 to 5" and "Islands in the Stream" with Kenny Rogers. The most honored female country singer of all time, Parton's awards include 8 Grammys and 7 Country Music Awards. She has received 46 Grammy nominations, tying her with Beyonce for most nominations for a female artist. Parton has starred in a variety of films, including 9 to 5 and Steel Magnolias. She has been inducted into the County Music Hall of Fame, received the Living Legend Medal from the U.S. Library of Congress for her contributions to American culture, and was awarded the National Medal of Arts, the highest award for arts and excellence given by the U.S. government and presented by the President of the United States. Parton is so well-known for her breasts that the cloned sheep, Dolly, was named after her since it was cloned from the issue of a breast. Parton has also claimed that she regularly enters Dolly Parton look-alike contests and loses.

Dolly Parton's last name, "Parton," is an English name from the Norman given name, Partant, who was one of the Norman nobles. It comes from Cumberland, where the family were lords of Parton. Other spellings include "Parton," "Partone," "Partin," "Pardon," "Pardant," and "Partant." The first known Parton to come to America was Sand Parton in 1664.

Last Names of Relatives in Dolly Parton's Family Tree
Other Celebrities Who May Be Related to Dolly Parton
Search other Celebrities or Your Ancestors