Craig Robinson Genealogy
(aka, Craig Malcolm Robinson)
Are You Related?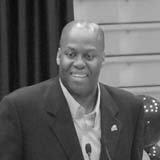 An American actor, singer, and comedian, Craig Phillip Robinson was born October 25, 1971, in Chicago, Illinois. He has both a bachelor's and a master's degree and worked as a music teacher before doing stand-up at Chicago's famous the Second City. He appeared in small parts on various shows, including Arrested Development, Friends, and Reno 911!. In 2005, he was cast on The Office as a recurring part and became a series regular in the fourth season. In addition, Robinson had a musical-comedy act with comedian Jerry Minor and has a band, the Nasty Delicious. Despite a minor scandal in 2008 when he was arrested for possession of drugs and being under the influence of cocaine, Robinson has starred in a number of films, including Pineapple Express, Shrek Forever After, Hot Tub Time Machine, This is the End, and Anchorman 1 and 2.

Craig Robinson's last name, 'Robinson,' is an English name from Yorkshire referring to the son of Robin or Robert. The earliest Robinson variation on record is Thomas Robynson in the Yorkshire Poll Tax of 1379. Other spellings include "Robenson," "Robbison," "Robbinson," and "McRobin." The first Robinson relative to settle in the United States was John Robinson in Virginia in 1606.
Other Celebrities Who May Be Related to Craig Robinson
Search other Celebrities or Your Ancestors