Bill Clinton Genealogy
(aka, William Jefferson Bill Clinton Bill Clinton Bill Clinton Blythe)
Are You Related?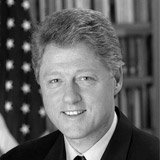 Born August 19, 1946, in Hope, Arkansas, William Jefferson "Bill" Clinton is an American politician who was the 42nd President of the United States. At the age of 46, he was the third-youngest president. Clinton attended Yale Law School, where he met his future wife, Hillary Rodham. He went on to become Arkansas Attorney General in 1976 and was elected as Arkansas Governor in 1978. In 1992, he beat George H. W. Bush to become president and won a second term against Republican opponent Bob Dole. Clinton's initial race made him one of the most popular presidential candidates to date, as part of his campaign involved him playing the saxophone on Saturday Night Live. Some scandals of his presidency include an interview where he admitted he had smoked marijuana "but didn't inhale" and when an affair with White House intern Monica Lewinsky came to light. Clinton was tried for impeachment because he had lied under oath about his relationship with Lewinsky but was acquitted. He and Hillary remained married, and Hillary went on to become United States Secretary of State after losing the Democratic Primary race against Barack Obama in 2008. They have one daughter, Chelsea.

Bill Clinton's last name, "Clinton," is a Scottish/Norman name that comes from Oxfordshire where the Clinton family held a seat from as early as the 11th Century. The name means "top of the hill" or "the summit" and traces back to Yorkshire in the 11th Century. Other spellings include, "Glinton" and "Clintone." The first Clinton of note to come to America was Joseph Clinton in St. Christopher in 1635.
Last Names of Relatives in Bill Clinton's Family Tree
Other Celebrities Who May Be Related to Bill Clinton
Search other Celebrities or Your Ancestors