Gary Oldman Genealogy
(aka, Gary Leonard Oldman)
Are You Related?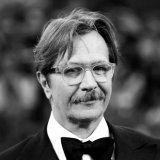 Born March 21, 1958, in London, England, Gary Leonard Oldman is a renowned English actor, writer, director, and musician. Oldman credits his decision to pursue acting from watching Malcolm McDowell's performance in Raging Moon. He worked a variety of jobs--including working on assembly lines, selling shoes, being a porter, and beheading pigs--while studying acting. Oldman had a variety of stage roles and made his film debut in Remembrance. His breakout role came in the 1986 film Sid and Nancy as Sid Vicious. He and other British actors of the 1980s, including Tim Roth, Bruce Payne, Colin Firth, Daniel Day-Lewis, and Paul McGann, were nicknamed the Brit Pack. Many of Oldman's successes have come playing the villain, including Lee Harvey Oswald in JFK, Dracula in Bram Stoker's Dracula, Drexl Spivey in True Romance, Baptiste Emanuel Zorg in The Fifth Element, and Egor Korshunov in Air Force One. Recent successes include the Harry Potter films as Sirius Black and Christopher Nolan's Batman trilogy as Commissioner Gordon. He's been married four times, to Lesley Manville, actress Uma Thurman, Donya Fiorentino, and actress Alexandra Edenborough. He is considered by many to be one of the greatest, most underappreciated living actors.

Gary Oldman's last name, 'Oldman,' is an English name referring to the oldest family from Oldham in Lancashire and means "the old farm." Other spellings include "Oldham," "Oldum," "Oldan," and "Oldhams." One of the first known Oldman relatives to come to America was John Oldham in Massachusetts in 1623.

Other Celebrities Who May Be Related to Gary Oldman
Search other Celebrities or Your Ancestors