Elle Fanning Genealogy
(aka, Mary Fanning)
Are You Related?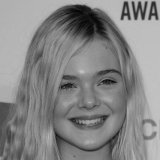 Originally known as "Dakota Fanning's little sister," Mary Elle Fanning is quickly gaining fame as one of Hollywood's best young actresses. Born April 9, 1988, in Conyers, Georgia, Fanning's first roles were playing younger versions of her sister in Taken and I Am Sam. Her first role independent of Dakota was in Daddy Day Care. Though she continued to work regularly in a variety of roles, her first leads were in Reservation Road and Phoebe in Wonderland. Starring roles in Somewhere, Super 8, and We Bought a Zoo have further established her as an actress to watch, and anticipation is high for her soon-to-be-released film, Malificent, co-starring Angelina Jolie. She has already received a variety of nominations, including a Saturn Award, a Young Artist Award, and an MTV movie award.

Elle Fanning's last name, "Fanning," is an Irish name from the Gaelic word "fionn" meaning "fair." It comes from Limerick in Southern Ireland in the 12th Century. Other spellings include "Fannin," "Fanningley," "Fannon," "Feenan," "Finan," "Finnan," and "O'Finan." The first Fanning to settle in the United States was Edmund Fanning in Connecticut in 1653.

Last Names of Relatives in Elle Fanning's Family Tree
Other Celebrities Who May Be Related to Elle Fanning
Search other Celebrities or Your Ancestors