Ethan Hawke Genealogy
(aka, Ethan Hawke)
Are You Related?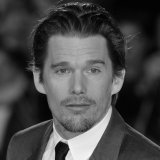 Born November 6, 1970, in Austin, Texas, Ethan Green Hawke is an American actor, writer, and director. His film debut was in Explorers in 1985, though it wasn't until four years later that he got his big break in Dead Poets Society. Important films that followed include Reality Bites, the Before Sunrise trilogy, Gattaca, and Training Day, for which he was nominated for an Academy Award. He wrote two of the screenplays for the Before Sunrise trilogy (receiving an Academy Award nomination), as well as two novels--The Hottest State and Ash Wednesday--and has both acted and directed various stage productions, earning him a Tony nomination for his role in The Coast of Utopia. He has been married twice--to actress Uma Thurman (1998-2005) and to Ryan Hawke, the former nanny to his children with Thurman. He has four children: Maya, Levon, Clementine, and Indiana. He is great-grandnephew to playwright Tennessee Williams.

Ethan Hawke's last name, 'Hawke,' is an English name which refers to a hawker (someone who kept hawks) and potentially means someone with a wild or cruel disposition or who lives in a nook or corner. It was first found in Lincolnshire in the 13th Century. Other spellings include "Hawk," "Hauk," and "Hauke." The first Hawkes of note to come to America were Mathew and Margaret Hawke in Massachusetts in 1630.

Other Celebrities Who May Be Related to Ethan Hawke
Search other Celebrities or Your Ancestors