David Beckham Genealogy
(aka, David Robert Joseph Beckham)
Are You Related?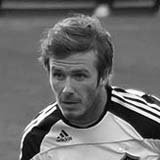 Arguably the most famous soccer/football player in the world, David Robert Joseph Beckham was born May 2, 1975, in London, England. A long-time Manchester United fan, along with his family, he began his career with the team in 1992 at the age of 17. With the team, he won the Premier League title six times, the UEFA Champions League in 1999, and the FA Cup twice. Other teams he's played for include Preston North End, Real Madrid, Milan, Las Angeles Galaxy, Paris Saint-Germain, and the English national team. By 2004, he was the world's highest-paid footballer and is the first British footballer to play in 100 Champions League matches. Officially retired from the sport in 2013, Beckham announced in 2014 that he and a group of investors would own a team in Miami. In 1999, he married singer and fashion designer Victoria Beckham, formerly one of the Spice Girls ("Posh"). They have four children: Brooklyn, Romeo, Cruz, and Harper.

David Beckham's last name, "Beckham," is an English name that refers to someone from Oxfordshire and relates to the village of Beckingham. Other spellings include "Beckingham," "Beckinham," "Beckington," and "Beckinton." The first Beckham to settle in the United States was Charles Beckham in Maryland in 1669.

Last Names of Relatives in David Beckham's Family Tree
Other Celebrities Who May Be Related to David Beckham
Search other Celebrities or Your Ancestors